Barber Shop Quartet Singer And Harmonious Group
Not every single men's barbershop quartet uniform has to be the exact same for your choir to look stylish and unified on stage, sometimes small details that are different about your uniform could help you stick out. This men's choir suit set is perfect for a group with 16 members. It is made up of 16 hand tailored formal dress shirts, 13 full suits which are made up of a pair of made to measure men's comfortable formal suit pants and a matching single breasted formal dress jacket that is highly flattering, the set then includes 3 pairs of formal dress pants for the members who did not receive the men's suit, these pants are stylishly paired with an intricately designed men's choir vest to complete the full look of a choir that is sophisticated and elegant.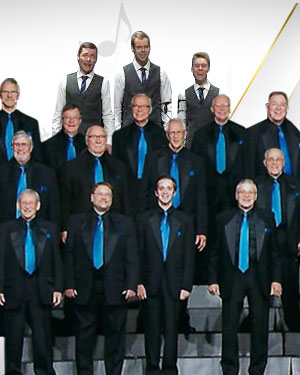 Barbershop - 13 Suits 16 Shirts 3 Vests 3 Pants
Regular Price: US$7145
Now Only US$4644.25!
Select fabric, style and colour using the buttons below each item listed and use the special request
button to indicate any changes or special requests to your custom piece selected.
If you have already added profiles to your account which are not showing,
please type in any email address associated with that account and click on Try Again.