Cheap Mens Suits
This classic collection package deal by my custom tailor offers three men's custom made three piece suits with two ties, and three men's tailor made dress pants with two belts. The men's made to measure three piece suits incorporate bespoke pants for men with features and patterns like, hand sewn cuffs hems, tapered elastic waistbands with two hook button closure, double piped pockets with flaps and buttons, boot cut and flare legs, inch stripes, houndstooth tweed pattern, subtle and bold stripes, herringbone self design pattern, tone on tone framed stripes, and many other options. Men's made to measure sports jackets with three piece suits display features and patterns like, high gorge V neck, flat fronts, hand molded shoulders that are padded, edge stitched collars, shawl collars, beaded and pearl inch stripes, Italian inch stripes, bold stripes in soft contrast, designer stripes, wide stripes, tone on tone birds eye pattern, and many other options. Men's made to measure vests display features and patterns like, angled V cut bottoms, V cut neck, rounded peak collars, inverted triangular collars, pick stitch stripes, contrast chalk stripes, overlaid window pane stripes, fishbone stripes, contrast fancy stripes, two color pinstripes, and many other options.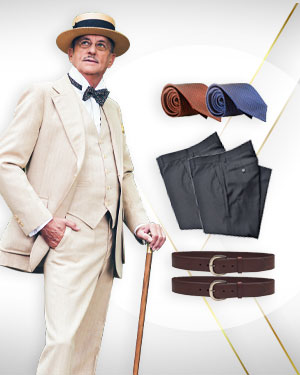 The Triple Classic - 3 Three Piece Suits, 3 Pants and 2 Belts and 2 Neckties from our Classic Collections
Regular Price: US$2079
Now Only US$1923.08!
Select fabric, style and colour using the buttons below each item listed and use the special request
button to indicate any changes or special requests to your custom piece selected.
If you have already added profiles to your account which are not showing,
please type in any email address associated with that account and click on Try Again.