Cheap Mens Suits Mens Shirts
This is an inexpensive ensemble that comprises of two men's bespoke pants with two belts and two ties, and two men's made to measure dress shirts and two men's custom made single breasted suits with a men's tailor made overcoat. All the classic collection garments in this ensemble are made of wools, cottons, silks, and many other fabrics. The men's bespoke shirts that we are offering can have multiple patterns and features like, edward stripes, contemporary stripes, continental stripes, tone on tone herringbone pattern, subtle stripes, street stripes, wide stripes, ainsley collars, folded barrel cuffs, buttoned barrel cuffs, epaulettes, and many other options. The men's custom made coat can have patterns and features like, snake skin pattern, designer cobra skin pattern, houndstooth tweed pattern, wide stripes, contrast striking stripes, wide collars, pressed peak collars, double breasted, single breasted, long and slim, knee length, and many other options. The men's made to measure suits comprises of men's custom pants with features and patterns like slim fit, comfortable fit, vertical pockets, hand sewn hems and edges, elastic waistband with extended belt loops, inch stripes, subtle chalk stripes, pinstripes, tonal stripes, invisible stripes, Italian stripes, and many other options, and men's bespoke single breasted jackets with patterns and features like, beaded and pearl stripes, wide stripes, two tone corded stripes, bankers stripes, long sleeves with buttoned barrel cuffs and slim fit, sleeves cuffs with boutonniere, hand pressed lapels, padded shoulders, and many other options. Subscribe to Tailoring News to get regular updates on all the latest deals that we offer.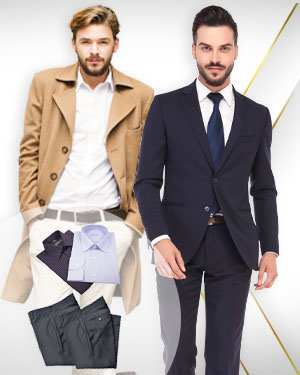 Summer Wardrobe Portfolio - 1 Overcoat, 2 Single Breasted Suits, 2 Pants, 2 Cotton Shirts,2 Belts and 2 Neckties from our Classic Collections
Regular Price: US$1985.5
Now Only US$1886.23!
Select fabric, style and colour using the buttons below each item listed and use the special request
button to indicate any changes or special requests to your custom piece selected.
If you have already added profiles to your account which are not showing,
please type in any email address associated with that account and click on Try Again.