Choir Uniforms Barbershop Performance
A classically sophisticated set of 20 gorgeous men's choir suits made from the finest European fabrics. These suits are made up of 20 elegant tailor made men's suit pants that are custom tailored to allow for easy movement during showcases, 20 crisp white long sleeve shirts tailored not only for comfort but also for style, finally the look comes together with smooth single breasted men's vests to create an effortless elegance to the entire look. This is a great set for a men's choir with a real flare for style. This set of twenty suits is the kind of head-turning piece that a barbershop choir with true style and sophistication will love.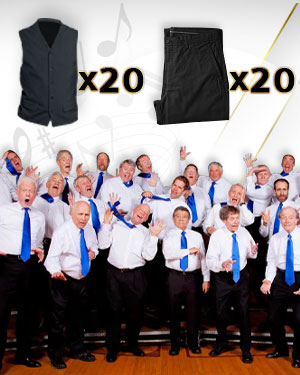 Barbershop choir -20 Shirts 20 pants 20vests
Regular Price: US$6900
Now Only US$4485!
Select fabric, style and colour using the buttons below each item listed and use the special request
button to indicate any changes or special requests to your custom piece selected.
If you have already added profiles to your account which are not showing,
please type in any email address associated with that account and click on Try Again.