Custom Made Suits Shirts On Sale
Cost effective ensemble of men's garments from our classic collection range, comprising of a tailor made suit, a custom made dress shirt, a made to measure formal pant and two neckties. The men's made to measure business shirt that we offer can have different patterns- like chalk stripes, flower patterns, micro polka dots, tone on tone diamond net pattern and many more. Our men's dress shirts can have Ainsley collars, semi spread collars, buttoned cuffs, embroidered sleeves and many other options to choose from. The men's tailor made custom suit with this package deal offers a men's custom made jacket and a men's handmade suit pant. The custom jacket can be single breasted or double breasted with embroidered sleeves, boutonniere on sleeves cuffs, padded shoulders, pressed lapel collars, Ainsley collar, barrel cuffs, french cuffs and many more features. You get to make a choice between patterns as well- pinstripes, bankers stripes, multi color pinstripes, and many other patterns. The men's suit pant with this offer can have flat fronts, reverse pleated fronts, belt loops, hand sewn cuffs, and many other styles. The men's made to measure pant that we are offering can be slim fit or comfortable fit, and have many other features to choose from. The handmade neckties are stunning accessories to complete a business look. The ones we offer can be striped, bold, multi colored, and can be made with a blend of different fabrics. All the garments we are offering as a part of this trial offer are made of wools, cottons, linens, Lycra, cashmere and various other fabrics. You can customize the garments to be wrinkle proof and stretchable as well. Contact eTailor to know more about the fabrics and styles that you can choose.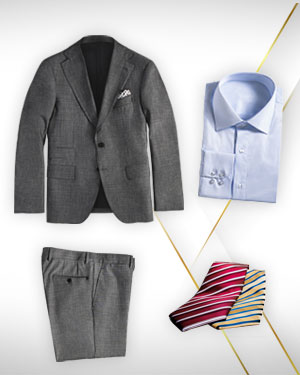 New Order Trial Offer - 1 Suit, 1 Shirt, 1 Pants and 2 Necktie from our Classic Collections
Regular Price: US$605
Now Only US$484!
Select fabric, style and colour using the buttons below each item listed and use the special request
button to indicate any changes or special requests to your custom piece selected.
If you have already added profiles to your account which are not showing,
please type in any email address associated with that account and click on Try Again.