Custom Tailored Barbershop Suits
Just because you are in a barbershop quartet does not mean that your member's individuality can't shine. If you are a harmonic group that plays on individualism then this men's barbershop quartet suit is perfect for you. Made up of four different dress shirts in the colors black and white and a set of four made to measure men's pants , all topped by sophisticated suit jackets. A stunning hand tailored men's barbershop quartet suit gracefully made to flatter you. This look is sophisticated and elegant with very little effort it truly is the very essence of style and class. This look truly is effortlessly chic and we guarantee that your audience will appreciate your sense of style.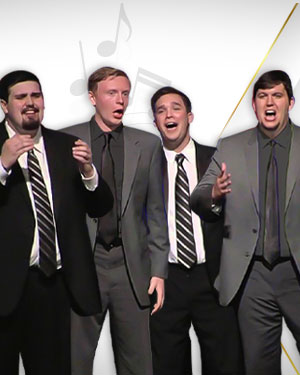 Barbershop - 4 Suits - this men's barbershop quartet suit is perfect
Regular Price: US$1738
Now Only US$1651.1!
Select fabric, style and colour using the buttons below each item listed and use the special request
button to indicate any changes or special requests to your custom piece selected.
If you have already added profiles to your account which are not showing,
please type in any email address associated with that account and click on Try Again.