Deal On Mens Custom Dress Shirts
We are offering a budget deal on our classic collection garments, putting on sale five men's made to measure cotton dress shirts with two matching neckties. The men's bespoke business shirts that we offer can have slim or comfortable fit. You can choose from an array of patterns and features like, lactose pattern, pastel tri color stripes on white, multi color stripes on white, micro diamond Morse pattern, supermicro Roman stripes, lactose basket weave pattern, narrow stripes, contemporary fishbone pattern, old world roped stripes on white, broad stripes, tone on tone diamond pattern, pencil stripes, micro tattersall check pattern, supermicro houndstooth pattern, continental stripes, herringbone and micro stripes, tone on tone chalk stripes, muted stripes, micro dot pattern, buttons on collars, wide peak collars, semi spread collars, rolled collars, rounded bottom, squared french cuffs, and many other options. You can wear the men's tailor made dress shirts by us with men's custom made dress pants having a slim fit and straight cut. We also offer two ties with this deal that you can pick in colors of your choice. Out men's formal cotton shirts look equally trendy with men's made to measure blazers and jackets for formal parties. Contact best custom clothier to know more specifics about the deal.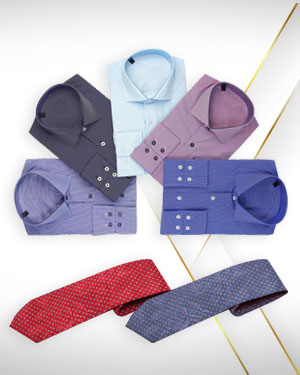 Five cotton dress shirts and 2 Neckties for men
Regular Price: US$425
Now Only US$361.25!
Select fabric, style and colour using the buttons below each item listed and use the special request
button to indicate any changes or special requests to your custom piece selected.
If you have already added profiles to your account which are not showing,
please type in any email address associated with that account and click on Try Again.