Deals And Specials On Mens Shirts
Package deal by my custom tailor from the exclusive collection range of men's garments, incorporating six made to measure business shirts for men and two attractive neckties at low prices. The men's tailor made dress shirts from this ensemble can have stylish slim cut or comfortable cut, with features and patterns like, pressed peak collars, notch lapel collars, shawl collars, semi spread collars, french cuffs, barrel cuffs with buttons, ticket pockets, hand sewn pocket edges, double piped pockets, tone on tone chalk stripes, inch stripes, subtle invisible stripes, wide stripes, multi colored double stripes, flower pattern, tweed herringbone pattern, bankers stripes, alternate color stripes, contemporary stripes, Devonshire stripes, and many other options. We also offer two handmade ties with this package. You can customize the ties in colors and patterns of your choice, and can wear them on all formal business meetings and evening events like graduation parties and weddings. The made to measure business shirts by us look incredible with men's custom made jeans and men's flare legs suit pants. The garments that we offer are made with wools, Lycra, cottons, silks, cashmere, and various other fabrics. Also, you get to choose between fabric types like, stretchable, iron free, washable, and many more. You can find out more about us from our official website.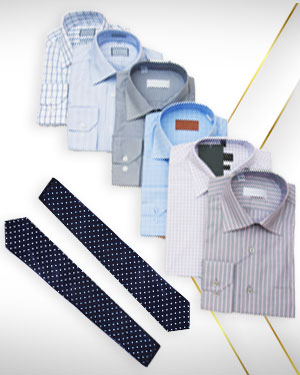 The Shirt Stack - 6 Cotton Shirts and 2 Neckties from Exclusive Collections
Regular Price: US$570
Now Only US$456!
Select fabric, style and colour using the buttons below each item listed and use the special request
button to indicate any changes or special requests to your custom piece selected.
If you have already added profiles to your account which are not showing,
please type in any email address associated with that account and click on Try Again.