Deals On Custom Made Mens Suits Shirts And Coat
Buy classic collection garments by Ravi's tailor on low prices, offering sale on six men's custom made business shirts and three men's tailor made single breasted suits with a men's handmade overcoat, a belt and two matching ties. The men's garments in this ensemble are made with cottons, wools, silks, and many other fabrics that may or may not be iron free, wrinkle resistant and washable. The men's made to measure coat can be long, single breasted, double breasted, knee length, calf length and slim fit, with multiple patterns and features like, houndstooth tweed pattern, houndstooth check pattern, designer cobra skin pattern, fabric covered buttons, embroidered sleeves, shawl collars, flapped pockets, and many other options. The men's bespoke slim fit or comfortable fit dress shirts can have multiple patterns and features like, continental stripes, tone on tone herringbone pattern, subtle stripes, tone on tone diamond net pattern, Devonshire stripes, tone on tone microchip weave, shawl collars with buttons, semi spread collars, mitered cuffs with boutonniere, double piped hand sewn pockets, and many other options. The men's bespoke suits incorporate custom made pants and handmade jackets. The men's made to measure jackets can have multiple features and patterns like, pressed peak collars, hand pressed shawl collars, center vent on the back, contrast stripes, tone on tone framed stripes, wide stripes, Italian stripes, and many other options. The men's bespoke suit pants give you an option to choose between multiple styles like, flare legs, folded cuffs, hand sewn pocket edges, elastic waistband, and so on. We offer a belt and two beautiful ties with this ensemble to help you carry yourself with full confidence. Contact us to know about better ways of customizing a formal outfit.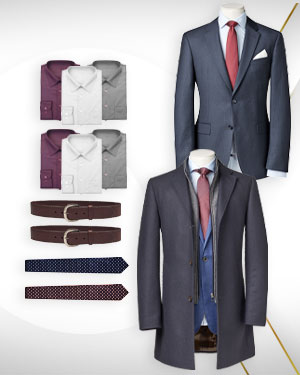 Realtors Package - 1 Overcoat, 3 Single Breasted Suits, 6 Cotton Shirts, 1 Belt and 2 Neckties from our Classic Collections
Regular Price: US$2453
Now Only US$2269.03!
Select fabric, style and colour using the buttons below each item listed and use the special request
button to indicate any changes or special requests to your custom piece selected.
If you have already added profiles to your account which are not showing,
please type in any email address associated with that account and click on Try Again.