Deals On Custom Winter Coats For Women
Turn heads with the three breathtaking gorgeous women's custom made overcoats that we are offering in a deal at slashed prices. We are also offering two belts with this deluxe collection garments package offer. The women's tailor made top coats that we offer can be made with cottons, wools, silks, cashmere, and many other fabrics, and the fabrics can be customized to be wrinkle free, creasefree and washable. Our made to measure winter coats for women are loaded with various features and patterns to choose from, like, notched lapels, high gorge, slanted pockets, edge stitched lapels and pockets, rounded patch pockets with buttons and flaps, single dart, high gorge, fabric covered attached belt, double track stitched pockets, rounded patch pockets, center vents, V neck, shawl collars, Birdseye tweed pattern, herringbone pattern, tone on tone chalk stripes, muted stripes, luxury tweed pattern in wool, invisible stripes, and many other options. The women's single breasted or double breasted overcoats can have a slim or comfortable fit with Knee length, calf length or ankle length. With this deluxe collection women's garments ensemble, we also offer two belts. Contact best Custom Tailor to know more about this deal, and subscribe to our newsletter to get feed and information about various such package offers.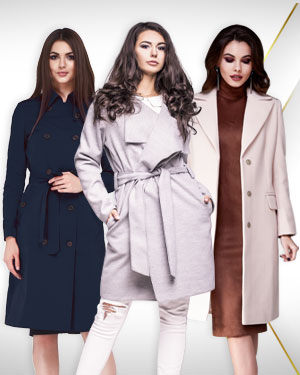 Winter Executive Wear Womens – 3 Topcoats and 2 Belts from our Womens DELUXE COLLECTIONS
Regular Price: US$3300
Now Only US$2310!
Select fabric, style and colour using the buttons below each item listed and use the special request
button to indicate any changes or special requests to your custom piece selected.
If you have already added profiles to your account which are not showing,
please type in any email address associated with that account and click on Try Again.