Deals On Mens Business Suits Custom
Attractive exclusive collection package of men's garments incorporating three tailor made dress shirts for men, three men's business suits and three men's made to measure formal pants. The men's custom pants can have different styles incorporating slim fit with buttoned waistband and front zipper fly, high waisted with extended belt loops, comfortable fit with flare legs and on seam pockets, and many other features. The tailor made men's suits that we are offering can feature custom made men's jackets with matching front close buttons and hand sewn cuffs and hems, slim fit men's jackets with slanted welt pockets, mitered cuffs with or without buttons and buttoned or chained front closure and so on, and custom made suit pants with attractive hand sewn bottom cuffs, front fly zipper, folded cuffs, and many other features and styles. The men's dress shirts that we offer are perfect formals that can be made with cottons, linens and other fabrics, and can display different patterns like bold stripes, wide cross stripes, pinstripes suits and many more. All the exclusive collection men's garments that we are offering in this package can also be order made to be wrinkle proof, stretchable and iron free, on demand.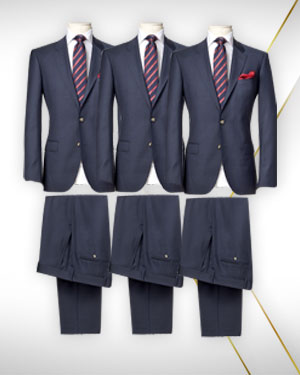 3 Suits, 3 Extra Pairs of Pants and Get 3 FREE Shirts from our Exclusive collection.
Regular Price: US$2887.5
Now Only US$2670.94!
Select fabric, style and colour using the buttons below each item listed and use the special request
button to indicate any changes or special requests to your custom piece selected.
If you have already added profiles to your account which are not showing,
please type in any email address associated with that account and click on Try Again.