Deals On Mens Overcoats
This super saving discount deal on men's garments gives away two made to measure men's overcoats and two custom made men's pants. The custom made men's coats from our exclusive collection range that we offer in this package deal can be single breasted or double breasted with front closure buttons, Ainsley collars, embroidered sleeves, slim fit, ankle length, hand sewn edges and lapels, boutonniere on sleeves cuffs, contrast front buttons and shawl collars, and many other styles. Our men's overcoats can be made with wools, cottons, silks, cashmere and other fabrics, and can display different patterns and designs like Tweed double diamond weave, tweed cross weave, tweed in Hunter weave, tweed in basket weave, buckingham stripes, sports tweed, tweed in pique pattern and many more. The tailor made men's pants that we offer in this exclusive collection garments range can have different colors to choose from, different fabrics- cottons, wools, linens, silks and others- to choose from, different patterns- double Oxford stripes, wide pinstripes, contrast stripes and many others- to choose from, and different styles- slim fit or comfortable fit with high waist, low waist, wide waistbands, extended buttons loops, on seam front pockets, welted back pockets and many others- to choose from. You can subscribe to our newsletter to get a daily feed about the new styles and latest trends in men's garments that we offer.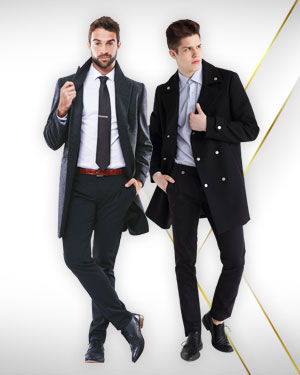 2 Cashmere Overcoats from Our Exclusive Collection and Get 2 Trousers FREE from our Exclusive Collection.
Regular Price: US$2420
Now Only US$2238.5!
Select fabric, style and colour using the buttons below each item listed and use the special request
button to indicate any changes or special requests to your custom piece selected.
If you have already added profiles to your account which are not showing,
please type in any email address associated with that account and click on Try Again.