Deals On Mens Suits And Shirts
This heavy discount offer by my custom tailor comprises of two made to measure dress shirts, two tailor made pants for mens, with a complementary business suit and a men's handmade blazer. The men's custom suit that we offer can display different styles like men's slim fit pants with on seam pockets, comfortable fit pants with extended belt loops, men's made to measure custom jackets with boutonniere on sleeves cuffs, Ainsley collars and flapped lower pockets with decorative buttons, slim fit jackets with hand sewn hems and cuffs and edge stitched pockets, and many other styles. The two handmade dress shirts that we offer can be customized as wrinkle proof as well. You can choose different designs like chalk stripes, district check, tweed double diamond weave, tweed Birdseye, contrast stripes and many more. This package offers you a hand on two tailor made men's pants with a zipper fly, buttons, vertical pockets, welted back pockets and many other styles. You also get a handmade men's blazer that can display different patterns like pinstripes, classic houndstooth pattern, bicolor stripes and many more. The custom made garments in this package from our exclusive collection can be hand sewn with wools, linens, cottons and many other fabrics. You can visit our website to know more your etailor and the styles that we offer.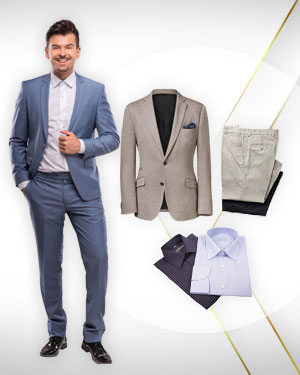 1 Suit, 1 Blazer, 2 Pants from our Exclusive Collection and Get 2 FREE Shirts from our Exclusive Collection.
Regular Price: US$1610
Now Only US$1207.5!
Select fabric, style and colour using the buttons below each item listed and use the special request
button to indicate any changes or special requests to your custom piece selected.
If you have already added profiles to your account which are not showing,
please type in any email address associated with that account and click on Try Again.