Deals On Mens Topcoats And Overcoats
We are offering two men's made to measure top coats from our deluxe collection range with two belts, at slashed prices. Men's tailor made winter overcoats by us can be made with wools, silk, cottons, cashmere, and many other fabrics that might interest you. Men's bespoke double breasted and single breasted overcoats can have features and patterns like, rolled notch lapels, slanted welt pockets, on seam pockets, high gorge, edge stitched pockets and lapels, square patch pockets, ticket pocket on left, double track stitched pockets and lapels, hand molded shoulder with or without embroidered sleeves, tone on tone tweed pattern, luxury tweed pattern on wool, birdseye tweed pattern, tone on tone framed stripes, and many other options. Our men's custom tailored top coats can also be made with fabrics that are wrinkle free, stretchable and iron free. You can wear our men's custom overcoats with men's bespoke slim fit slacks for formal parties. We also offer two belts with this ensemble, and you can customize our belts with as many punch holes as you need. Contact iTailor to know more about this package deal.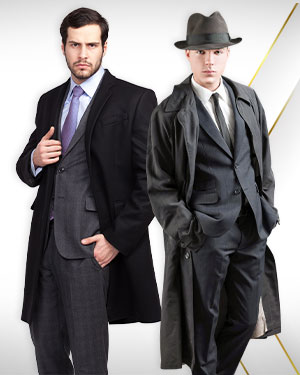 Winter Executive Wear Mens - 2 Top Coats and 2 Belts from our Mens DELUXE COLLECTIONS
Regular Price: US$2190
Now Only US$1533!
Select fabric, style and colour using the buttons below each item listed and use the special request
button to indicate any changes or special requests to your custom piece selected.
If you have already added profiles to your account which are not showing,
please type in any email address associated with that account and click on Try Again.