Hot Deal On Mens Shirts Mens Suits
This garments ensemble offers a men's handmade business suit with four stunning men's handmade business shirts and two neckties. All the delux collection garments in this ensemble are made of silks, wools, satins, cottons, and some other fabrics. The men's tailor made dress shirts that we offer with this deal give an option to choose from different patterns- contrast stripes, alternate colored stripes, wide stripes, continental stripes, and many other patterns. Our men's handmade suit pant can be slim fit or comfortable fit with features like, shawl collars, pressed peak collars, contrast front close buttons, ruffled sleeves, and so on. The men's handmade suit with this ensemble puts on sale a men's jacket and a men's custom pant. The men's made to measure jacket can be slim or comfortable, with flapped pockets, welted pockets with buttons, padded shoulders, and many other features. The men's handmade suit pant can have flare legs, slim fit, on seam pockets, flat front, ticket pockets, and various other features. We also offer two custom ties in different colors with this deal to complete your formal look. Subscribe to tailoring news to keep updated with the latest styles of men's garments, and contact thailand tailor in case you have any questions about the discount deals that we offer.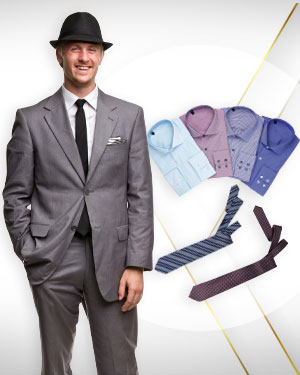 The Spring Discount - A Two Piece Suit, Four Shirts and 2 Neckties in Cotton from our Deluxe Collections
Regular Price: US$1115
Now Only US$836.25!
Select fabric, style and colour using the buttons below each item listed and use the special request
button to indicate any changes or special requests to your custom piece selected.
If you have already added profiles to your account which are not showing,
please type in any email address associated with that account and click on Try Again.