Mens Barbershop Choir Uniforms
Imagine a men's barbershop choir uniform thats flattering, comfortable, breathable, easy to move in, fun, and elegant. This set of men's barbershop choir suits come in an affordable group package of eight suits. Can you picture yourself on stage with your choir group wearing a pair of hand tailored men's black suit pants, flattering men's dress shirts, and single breasted vests with a soft finish that adds a sleek and sophisticated look to your over-all appearance? The good news is that this set of men's eight choir suits with beautiful lavender hints is available at an affordable price that you can easily afford. This set if elegant and great for a performance group. Made to order at My Custom Tailor. Order online for great discount in this set of 8 shirts, pants or slacks and vests or waistcoats. Two for each in a quartet or one for each in a double quartet. Get it custom made to order in a range of dazzling fabrics, colors and styles. Light weight sweat free fabrics for a confident and award winning performance.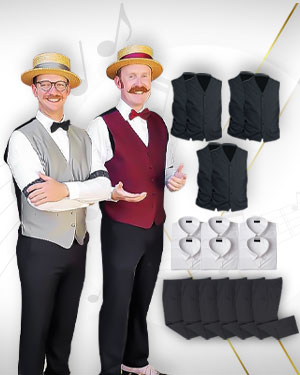 Barbershop - 8 Shirts 8 pants 8 Vests
Regular Price: US$2760
Now Only US$1932!
Select fabric, style and colour using the buttons below each item listed and use the special request
button to indicate any changes or special requests to your custom piece selected.
If you have already added profiles to your account which are not showing,
please type in any email address associated with that account and click on Try Again.