Mens Shirts Womens Shirts On Sale
Heavy discount on men's and women's garments by Ravi's tailor, giving away three women's tailor made dress shirts, three men's custom made business shirts, a necktie and a silk scarf. All the garments in this ensemble are made out of wools, cottons, silks, satin, cashmere and various other fabrics under the classic collection range. The men's and women's made to measure business shirts can have multiple styles to choose from- slim fit and comfortable fit, with Ainsley collar, semi spread collars, buttoned sleeves cuffs, french cuffs, mitered cuffs, and many more. You can make a choice of patterns as well- alternate colored stripes, pinstripes, bold stripes, tone on tone stripes, Devonshire stripes, microchip weave, tone on tone diamond net, and many more. This classic collection garments package offers a handmade necktie for men. The necktie can have multiple patterns like vertical stripes, double stripes, chalk stripes and so on. The complementary silk scarf that we offer with this ensemble can be customized in different colors.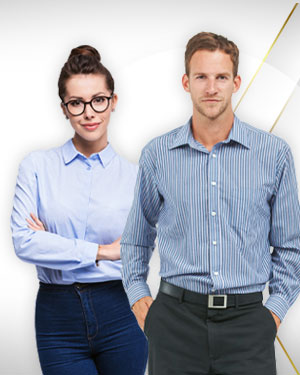 Three shirts for her and three shirts for him plus one sevenfold woven necktie and a beautiful silk scarf from Classic Collections
Regular Price: US$360
Now Only US$306!
Select fabric, style and colour using the buttons below each item listed and use the special request
button to indicate any changes or special requests to your custom piece selected.
If you have already added profiles to your account which are not showing,
please type in any email address associated with that account and click on Try Again.