Mens Suit With Vest For Quartet Choirs
Just because you are in a barbershop quartet does not mean that your choirs individuality can't shine. If you are a harmonic group that plays on individualism, then this men's barbershop quartet suit with vest is perfect for you. This three peice suit is filled with color but instead of the contrast being overwhelming, the shirts in any color of your choice, for example blue, purple, red, and yellow are surprisingly complimentary. This flattering men's set of barbershop quartet suits comes with four suit jackets and complimentary made to measure pants, a single vest to accompany one of the suits, and four comfortable and breathable dress shirts in a number of colors.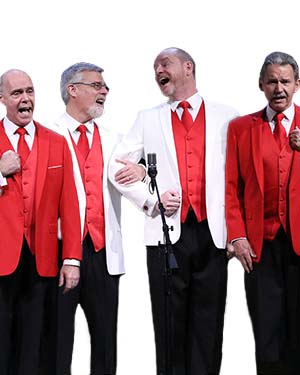 Barbershop - 4 Suits 3pc and 4 Shirts
Regular Price: US$2280
Now Only US$1596!
Select fabric, style and colour using the buttons below each item listed and use the special request
button to indicate any changes or special requests to your custom piece selected.
If you have already added profiles to your account which are not showing,
please type in any email address associated with that account and click on Try Again.