Sale Custom Made Womens Shirts
Classic collection garments ensemble by Ravi's tailor with six women's tailor made business shirts and three handmade scarfs, all made with cottons, wools, linens, silks, cashmere and various other fabrics. The made to measure slim or comfortable fit women's dress shirts flant various patterns like British stripes, American stripes, gloss finished herringbone stripes, buckingham stripes, grid pattern, two tone pencil stripes, tone on tone Oriental brocade, multi colored stripes, lacoste pattern, polka dots, flower pattern, atomic dots, geometric dots, and various other patterns. The women's office shirts that we offer can have semi spread collars, rounded barrel cuffs with buttons to close, placket pockets, flapped pockets, double piped pockets, hand stitched pocket edges, ainsley collars and various other styles. You can use the handmade scarfs that we offer to accessorize your look. The two scarfs that we are giving away with this package deal can be made with cottons, wools, silks and other fabrics, and can be multi colored, striped, and so on. You can wear the women's tailor made business shirts by us with women's custom made slacks, women's handmade waistcoats, women's custom made skirts and women's handmade pants. We also offer the option to customize our garments in wrinkle proof fabrics. You can visit our website to know more your best tailor and the styles that we offer.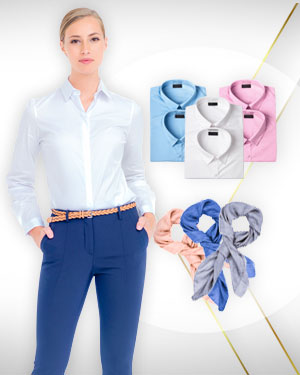 6 Womens Shirts and 3 Scarfs from our Classic Collections
Regular Price: US$270
Now Only US$229.5!
Select fabric, style and colour using the buttons below each item listed and use the special request
button to indicate any changes or special requests to your custom piece selected.
If you have already added profiles to your account which are not showing,
please type in any email address associated with that account and click on Try Again.