Sale Custom Made Womens Suits
Package offer by Ravi's tailor giving away a women's custom made formal skirt suit, a women's made to measure pant suit and two handmade scarfs. The women's custom clothing in this package are all from the classic collection range of garments. The women's skirt suit that we are offering in this package deal incorporates a formal women's suit skirt and a women's tailor made suit jacket. The jackets can have slim or comfortable fit, with padded shoulders, boutonniere on sleeves cuffs, hand molded shoulders, double piped pockets with or without flaps and buttons, and many other features. The skirts can be calf length, knee length, A line, pencil skirts and so on. You can choose the skirts to have flat fronts, pleated fronts, ruffled hems, edge stitched pockets, and many other features. The women's pant suit by us incorporates a stunning jacket and a formal pant for women. The pants can have slim fit, flare legs, straight fit, on seam pockets, and many other features. You can accessorize the formal look with the two complementary handmade scarfs that we are offering. All garments from our classic collection range can have multiple designs- like cross stripes, bankers stripes, contrast stripes and many more. You can use wools, cottons and other classic collection fabrics to order a garment of your choice. Subscribe to your custom clothier for daily information on latest in-trend styles.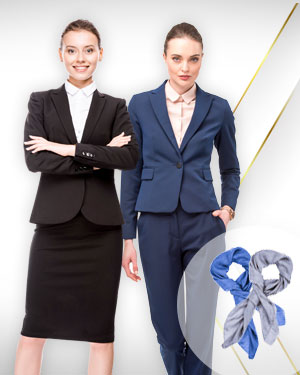 1 Pants Suits, 1 Skirts Suits and 2 Scarfs from our Classic Collections
Regular Price: US$790
Now Only US$632!
Select fabric, style and colour using the buttons below each item listed and use the special request
button to indicate any changes or special requests to your custom piece selected.
If you have already added profiles to your account which are not showing,
please type in any email address associated with that account and click on Try Again.