Sale Custom Pants Shirts For Women
The classic collection garments that we are offering in deal comprises of three women's tailor made blouses, three handmade pants for working women and three women's custom made formal scarfs. Heavily discounted women's garments in this ensemble can be made with wools, cottons, silks, satins, linens and many more fabrics. The women's tailor made suit pants that we offer can have slim fit, comfortable fit, flat fronts, reverse pleats, flare legs, rolled up cuffs, hand sewn edges of pockets and collars, and much more. Our collection of women's blouses from this package can have multiple designs like tone on tone chalk stripes, subtle alternate stripes, cross stripes, pinstripes, multicolor stripes and many more. Our custom made business shirts for women can have styles like slim fit, full sleeves, embroidered sleeves, french cuffs, peak lapels collars and many more. The tailor made women's pants in this package can have flare legs, slim fit, ruffled hems, double reverse pleats, double piped pockets, tapered waist, and much more. Our women's handmade scarfs are perfect business formals that look stunning when donned with women's vests and waistcoats. All our garments can be made with cottons, wools, silks and other fabrics that you like. The women's custom clothing that we offer can be customized to wrinkle proof and washable.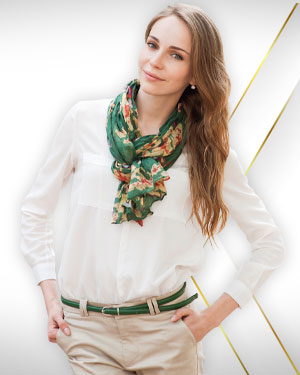 3 Blouses, 3 Pants and 3 Scarfs from our Classic Collections
Regular Price: US$540
Now Only US$432!
Select fabric, style and colour using the buttons below each item listed and use the special request
button to indicate any changes or special requests to your custom piece selected.
If you have already added profiles to your account which are not showing,
please type in any email address associated with that account and click on Try Again.