Sale Mens Custom Suits Pants And Custom Shirts
This money saving garments package deal from our classic collection range consists of two men's bespoke business suits, two men's custom made dress shirts, and two men's made to measure slim fit pants with two matching neckties- all can be made with soft cottons, wools, silks, satin, cashmere, and any other fabric that you may like. The men's custom made suits that we offer consist of men's custom made suit pants with flat fronts, slash pockets, welted back pockets, two point button and hook closure, high waist, extended belt loops, hand sewn cuffs and hems, quarter inch stripes, soft stripes, bold stripes, alternate soft and bold stripes, contrast bankers stripes, McEuro checks, McConnery checks, tone on tone pique pattern, tweed basket weave pattern, and many other options, and men's handmade jackets with slim fit, medium gorge, hand sewn cuffs, double piped pockets, boutonniere on lapels, boutonniere on sleeves cuffs, epaulettes, embroidered shoulders, fitted armholes, high gorge, Ainsley collars, semi spread collars, subtle contrast stripes, two tone alternate band stripes, tweed herringbone pattern, tweed basket weave pattern, sharkskin pattern, bold stripes, and many other options. The two men's bespoke business shirts with this deal can have ainsley collars, shawl collars, button down collars, fabric covered buttons, flapped and buttoned pockets, flat fronts, lactose pattern, traditional executive stripes on white, pastel trip colored stripes on white, soft multi colored stripes on white, and many other options. The two neckties that we offer as a part of this deal are suitable accessories for formal meetings and parties.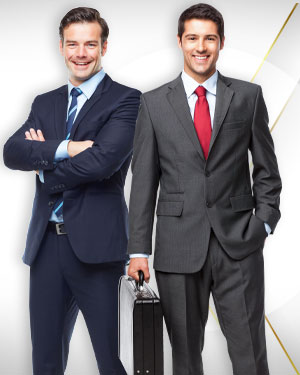 Best Spring Deal - 2 Suits with extra Pants, 2 Shirts and 2 Neckties
Regular Price: US$1320
Now Only US$1180!
Select fabric, style and colour using the buttons below each item listed and use the special request
button to indicate any changes or special requests to your custom piece selected.
If you have already added profiles to your account which are not showing,
please type in any email address associated with that account and click on Try Again.