Sale Womens Dress Pants
Set of four stellar womens custom pants and a hand tailored business custom shirt for women by Ravi's tailor. You can customize the womens dress pants with a amazing range of fabrics, styles, colors and patterns from our exclusive collection list. womens bespoke pants can be customized into various patterns like two tone birds eye pattern, wide pinstripes, herringbone pattern, contrast stripes, buckingham stripes, tweed pattern and many more. You can choose between silks, cottons, wools, cashmere, satin, spandex and various other fabrics in order to design the garments as per your likes. Our handmade pants for women display various styles- womens high waisted pants with flat fronts and welted back pockets, womens flare legs custom pants with reverse double pleats, slash pockets and standard waistband, and many other styles. You can wear them with womens tailor made vests and formal custom jackets for women for an impressive party look. Stunning tailor made dress shirt for women in this package can be handmade in different styles- flat front with Ainsley collars, pleated front with buttoned french cuffs and boutonniere on sleeves cuffs, slim fit with pressed lapel collars and hand sewn hems, and many other listed styles. Wear with neckties or womens tailor made scarfs for black tie events. Contact your custom tailor on our website to know more about what patterns and designs would be best suited for different formal events.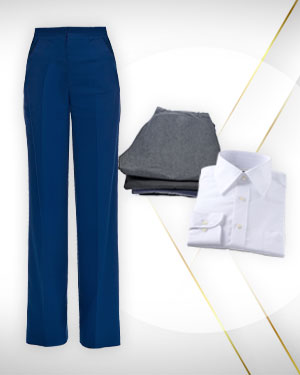 Women Dress Pants from our Exclusive Collection and Get 1 FREE Exclusive Shirt.
Regular Price: US$1083.5
Now Only US$1029.33!
Select fabric, style and colour using the buttons below each item listed and use the special request
button to indicate any changes or special requests to your custom piece selected.
If you have already added profiles to your account which are not showing,
please type in any email address associated with that account and click on Try Again.