Special Deal On Mens Custom Made Business Shirts
We are offering a sale on premium collection men's garments incorporating four men's made to measure business shirts with two matching ties. Men's custom tailored dress shirts that we offer can have placket front, narrow forward point collars, ainsley collars, barrel cuffs, standard yoke, button down collars, plain back, flapped and buttoned pockets, standard pockets on left, traditional executive stripes on white, bankers stripes on white, spaced alternate stripes on white, tri color stripes on white, multi colored stripes on white, lactose pattern, and many other options. The men's made to measure cotton dress shirts that we offer can be worn with men's bespoke slim fit pants and men's formal blazers for wedding parties, interviews and graduation ceremonies. We also give away two neckties as a part of this deal that can be ordered in whatever colors and fabrics that you like. Contact Thailand Suit Makers to know more about this package deal, or subscribe to our newsletter to get updates on various other package deals that we offer.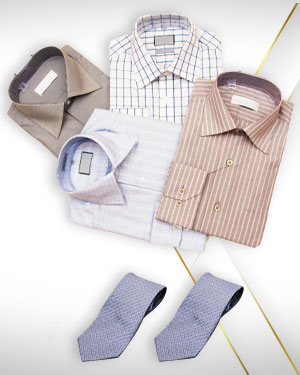 Four Shirts and 2 Neckties from our Premium Collection
Regular Price: US$340
Now Only US$289!
Select fabric, style and colour using the buttons below each item listed and use the special request
button to indicate any changes or special requests to your custom piece selected.
If you have already added profiles to your account which are not showing,
please type in any email address associated with that account and click on Try Again.