Special Offer On Custom Made Mens Business Suits
Cost effective package offer by Ravi's tailor, putting on sale twelve men's custom dress shirts from the classic collection pool of garments and three men's handmade business suits from our deluxe collection range. We also offer two ties as accessories with this package offer. The men's made to measure custom suits are dapper formals with handmade suit pants and tailor made jackets. The men's custom made pants can have flare legs, tapered elastic waistband with belt loops, standard waistband with buttons to close, flat front, and various other features to choose from. The custom made jackets for men can have slim fit, comfortable fit, straight fit, hand sewn pocket edges, padded shoulders, and many other features. You can choose from distinctive patterns like, pinstripes, contrast stripes, alternate stripes, double stripes, tone on tone stripes, digital morse pattern, matrix pattern, muted stripes, and many other options. Twelve custom made dress shirts for men from our classic collection garments can have multiple patterns to choose from- street stripes, continental stripes, contemporary stripes, alternate subtle stripes, multi colored wide stripes, bold stripes, tone on tone diamond net pattern, Devonshire stripes, atomic dots, micro polka dots, and many other patterns. You can customize the men's business shirts that we offer in different styles, with Ainsley collars, shawl collars, pressed lapels, epaulettes, angled V cut bottoms, hand sewn hems, and many other features. Two neckties with this package look classy and are suitable for meetings and formal parties. All the men's garments in this ensemble can be customized in different wools, cottons, silks, satin, cashmere, Lycra, and many other fabrics.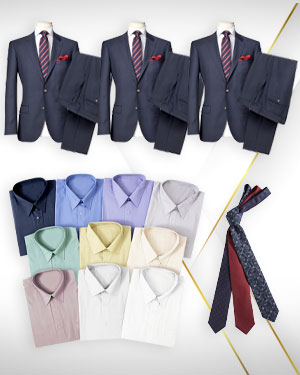 The Money Man's Deal - 3 Deluxe Suits, A Dozen Classic Cotton Shirts and 3 Neckties
Regular Price: US$3217.5
Now Only US$2976.19!
Select fabric, style and colour using the buttons below each item listed and use the special request
button to indicate any changes or special requests to your custom piece selected.
If you have already added profiles to your account which are not showing,
please type in any email address associated with that account and click on Try Again.