Special Offer On Custom Shirts For Men
Put your hands on this inexpensive garments package deal with seven high quality tailor made dress shirts for men with two matching neckties from our deluxe collection range of men's custom clothing. You can order the garments in fabrics like cottons, silks, satins, and many more. You can also make a choice between bright and pastel colors, as you may like. The men's made to measure business shirts can have wide stripes, bold and subtle alternate stripes, bankers stripes, chalk stripes, pinstripes, Edward stripes, contemporary stripes, flower pattern, narrow forward collar, placket front, plain back, flat front, Ainsley collars, standard yoke and tail, fitted armholes, peak lapels, welt pockets, rounded barrel cuffs, and many other options. You can pair up the men's dress shirts with men's slim fitted custom made suits for impressive party look and black tie events. The custom neckties that we offer with this set can be made in multiple colors and patterns like horizontal stripes, cross stripes, micro polka dots, and many other options. Subscribe to custom clothier newsletter to get daily updates on all the new styles that we keep offering, or contact best hong kong tailor to learn different ways of elegantly customizing a garment of your choice.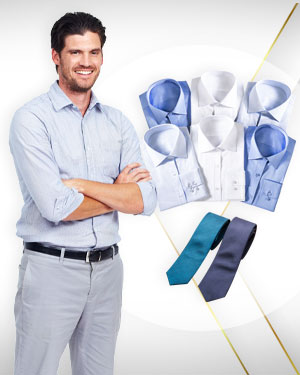 Seven Shirts and 2 Neckties from the Deluxe Collections
Regular Price: US$770
Now Only US$616!
Select fabric, style and colour using the buttons below each item listed and use the special request
button to indicate any changes or special requests to your custom piece selected.
If you have already added profiles to your account which are not showing,
please type in any email address associated with that account and click on Try Again.