Special Offer Womens Custom Blouses And Shirts
We are offering mind boggling discount deal on women's custom clothier from our premium collection range, giving away four women's custom tailored blouses with two matching scarfs at a low price. The women's made to measure blouses that we offer can be made with cottons, silks, wools, and many other fabrics that may or may not be made stretchable, iron free and wrinkle free. The women's custom made dress shirts by us can be slim fit or comfortable fit with features and patterns like, Ainsley collars, band collars, rounded barrel cuffs, placket front, flat front, plain back, matching buttons, contrast buttons, two buttons square barrel cuffs, standard tail, V neck, invisible stripes, flower pattern, micro polka dots, muted stripes, herringbone pattern, and many other options. You can wear the women's tailor made blouses with pencil skirts or A line skirts for a formal look. We also offer two silk scarfs with this deal that can also be made with cottons, satin, and any other fabric that you like. Sign in for Custom Tailoring Newsletter to get detailed information on various such deals that we keep offering on women's garments from time to time.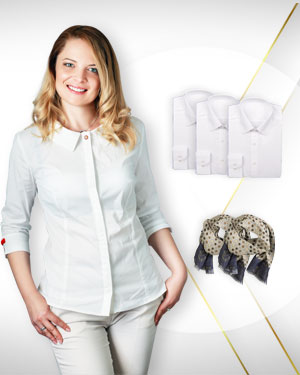 Summer Blouses Offers - 4 Blouses 2 Neckties our Premium Collection
Regular Price: US$380
Now Only US$323!
Select fabric, style and colour using the buttons below each item listed and use the special request
button to indicate any changes or special requests to your custom piece selected.
If you have already added profiles to your account which are not showing,
please type in any email address associated with that account and click on Try Again.