Special On Custom Slacks And Trousers For Men
Heavy discount on four made to measure formal slacks for men and a belt by my custom tailor from the classic collection range of men's garments. Men's custom made pants that we are offering as a part of this deal can be made with wools, cottons, linens, and other fabrics that might interest you. The men's made to measure slacks can have different patterns- like, tone on tone wide stripes, inch stripes, tonal stripes, Italian stripes, contrast stripes, two tone corded stripes, beaded and pearl stripes, houndstooth tweed pattern, and many other options. You can also customize the men's tailor made dress pants by us in stretchable and iron free fabrics. You can wear the men's formal pants by us and men's tailor made double breasted jackets for parties. We also offer an option to choose between different features like welted pockets, flapped back pockets, folded cuffs, flat fronts, double piped hems, and many other features. The belt with this classic collection ensemble can be custom made in colors of your choice. Subscribe to tailoring news to get more information and daily updates about new packages that we offer.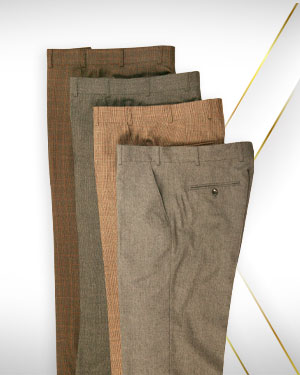 Summer 2020 Bumper Sale - 4 Pants from our Classic Collections
Regular Price: US$594
Now Only US$579.15!
Select fabric, style and colour using the buttons below each item listed and use the special request
button to indicate any changes or special requests to your custom piece selected.
If you have already added profiles to your account which are not showing,
please type in any email address associated with that account and click on Try Again.