Special On Mens Custom Suits And Shirts
Coming from the deluxe collection range of garments by my custom tailor, this ensemble consists of two men's made to measure suits and two men's bespoke dress shirts with two ties. You can customize the garments in colors that you like. You can make a choice between cottons, silks, wools, satin, and many other fabrics from our deluxe collection range. The men's made to measure suit pants can have different patterns and features like, tone on tone subtle stripes, invisible stripes, sateen tone on tone stripes, tone on tone quarter inch stripes, self design in digital morse pattern, self design in matrix pattern, subtle micro stripes, chalk stripes, pinstripes, lavender stripes, hand stitched hems, slash pockets, on seam pockets, ticket pockets, double piped pockets, slim fit, welt pockets, standard back pockets with flaps and buttons, and many other options. The men's made to measure jackets give you numerous choices of patterns and features like, Italian collection in tweed, muted inch stripes, polished broad stripes, classical two line pinstripes, Gregorian stripes, Basel and canterbury stripes, italian collection in pinstripes, continental plaid sports jacketing, lightly padded and hand molded shoulders with embroidered sleeves, boutonniere on sleeves cuffs, hand sewn pocket and collar edges, satin facing lapels, and many other options. The men's custom made dress shirts that are slim or comfortable can have patterns and features like, Edward stripes, continental stripes, wide stripes, bold stripes, chalk stripes, tone on tone pinstripes, sleeves with fitted armholes, round bottoms, double piped chest pockets, semi spread collars, Ainsley collars, and many other options. The ties that we offer with this package can be order made in any color that you like. Subscribe to our newsletter for regular information on different deals that we offer on men's garments.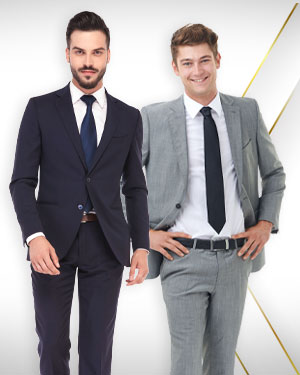 Package for the Elite - Two suits, Two shirts and 2 Neckties from our Deluxe Collection
Regular Price: US$1570
Now Only US$1177.5!
Select fabric, style and colour using the buttons below each item listed and use the special request
button to indicate any changes or special requests to your custom piece selected.
If you have already added profiles to your account which are not showing,
please type in any email address associated with that account and click on Try Again.