Specials On Mens Summer Shirts Custom Made
Inexpensive and affordable men's garments deal with six men's tailor made dress shirts and a tie from the premium collection range. The men's made to measure business shirts by us can be worn with men's bespoke jackets and men's straight fit pants for weddings and black tie events, and with men's tailor made denim jeans for a semi formal business look. Our bespoke business shirts for men can have different features and patterns like, semi spread collars, shawl collars, high gorge collars, hand molded shoulders with fitted armholes, box pleated pockets, boutonniere on sleeves cuffs, edward stripes, contemporary stripes, micro diamond matte pattern, lactose pattern, tri color stripes on white, bold stripes, soft multi color stripes on white, super micro Roman stripes, wide stripes, inch stripes, narrow stripes, traditional pinstripes, and many other options to choose from. You can customize our premium collection garments in stretchable fabrics as well. We also offer a custom made tie that can be ordered in fine colors and patterns that you want. Subscribe to our newsletter to get latest feed on the new styles that we introduce regularly.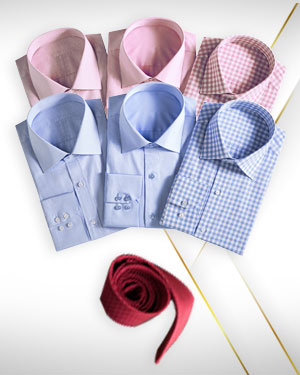 Summer Arrival - 6 Shirts and 1 Necktie from our Premium Collection
Regular Price: US$485
Now Only US$430!
Select fabric, style and colour using the buttons below each item listed and use the special request
button to indicate any changes or special requests to your custom piece selected.
If you have already added profiles to your account which are not showing,
please type in any email address associated with that account and click on Try Again.