Womens Wfh Shirts Shorts Custom Made
Order 3 Custom made Dress Shorts & 3 Custom Dress Shirts for women at discount for your work from home attire. Casually comfortable yet stylish and modern. The perfect choice for the working woman. The garments are made with high quality standard with features like anti-roll waistband, double stitched seams, piped pockets. The cloth for custom made women shorts is light weight super file wool blend, cotton or linen for high breathability, wrinkle free, machine washable and easy care.
Perfect fit work from home clothing for women, custom made to measure by expert tailors for perfect fit.
Look great onscreen while zoom meeting with colleagues or friends. Order Online or Meet our Traveling Tailor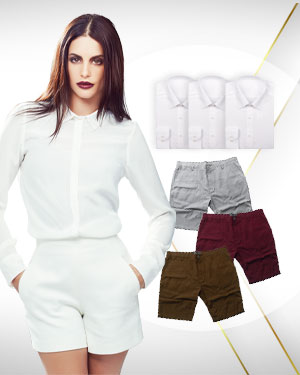 WFH 3 Custom made Dress Shorts & 3 Custom Dress Shirts (Women)
Regular Price: US$661.5
Now Only US$644.96!
Select fabric, style and colour using the buttons below each item listed and use the special request
button to indicate any changes or special requests to your custom piece selected.
If you have already added profiles to your account which are not showing,
please type in any email address associated with that account and click on Try Again.