Womens Work From Home Custom Shorts
6 custom made work from home womens shorts, made to measure for a very special price. Made in the fabric which is comfortable, stylish, durable, machine washable and wrinkle free. These shorts are designed keeping in mind the necessary comfort required while working from home. The shorts features high end construction standard for long lasting wear. Additionally, while ordering online, specific customization can be selected.
The ideal companion for the 'work from home' job. Perfect fit and comfort throught the day.
Choose your own fabric, style, color and design. Pick threads, buttons and customize these 'work from home' shorts for the ultimate in WFH attire for women. Order Online or Meet Our Tailor in Your City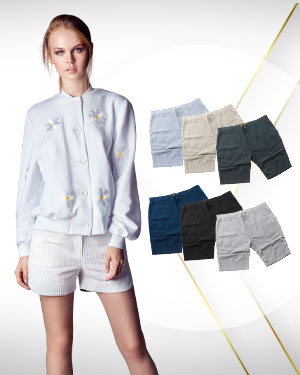 Womens Work from Home Shorts - custom made - 6 in Package
Regular Price: US$726
Now Only US$707.85!
Select fabric, style and colour using the buttons below each item listed and use the special request
button to indicate any changes or special requests to your custom piece selected.
If you have already added profiles to your account which are not showing,
please type in any email address associated with that account and click on Try Again.